Coffee shop meetings. We've all been there. Perspective co-workers don't believe you have a real business and walk away because they don't want to take the chance, or client meetings that ended with a no because you were not taken seriously.
Let Office Ours help.
Access to a Conference room at any Office Ours location could be the difference between "yes" and "no" to new business and building your staff with the best people. With an Office Ours Co-working membership you will have access to multiple sized conference rooms and all of our locations.
Staff Meetings
Does your business need a place to have professional in-person staff meetings? Every Office Ours product includes monthly time to make it easy for you and your team to meet.
New Employee Interviews
Video interviews can feel impersonal, making it difficult and stressful to manage. Our conference rooms can give you a professional in-person space to conduct interviews to make sure you hire the best employees.
Board Meetings
Board meetings are a chance to define and discuss the company's trajectory, so having the right space to conduct important matters is essential. Our conference rooms give every meeting-goer access to wireless presentation capabilities for members to present, and access to all amenities.
Training
Whether training new hires or giving instructional lessons, our conference rooms provide everything needed for a productive and efficient session. Each office location includes a kitchen for snacks and lunch, wireless presentation capabilities for flawless instruction, and versatile setups for different-sized meetings.
Group Studies / Meetings
Therapy group sessions, religious small groups, or interest groups find our conference rooms perfectly suited to their needs. Since these sessions tend to be after-work hours, our rooms can be booked easily through our member portal anytime you need, and for as long as you need.
Networking Events
Our large conference room at our Midtown location is ideal for networking groups to meet and host events. This room includes a refrigerator and counter-top for snacks and drinks and can be configured to your specific needs of the event.
Become a Member and gain access to:
---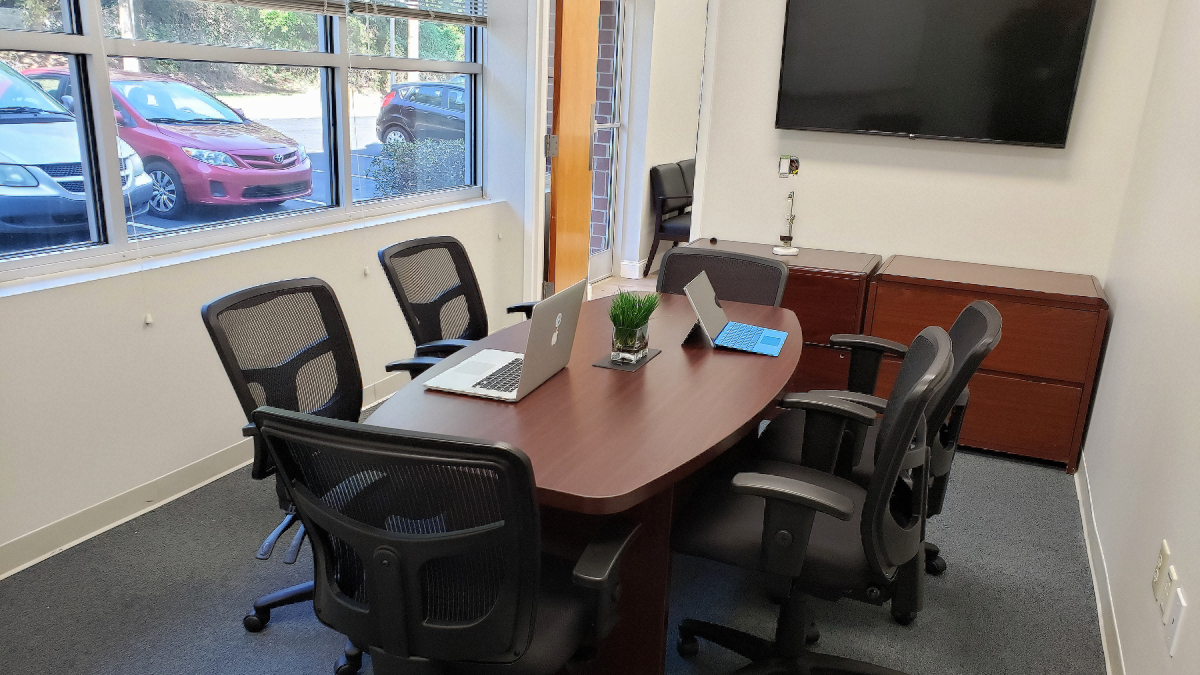 Small Conference Rooms
Perfect for meetings of 2-6 people.
Offered at the following locations:
Commonly used for:
Staff meetings
Group sessions
Interviews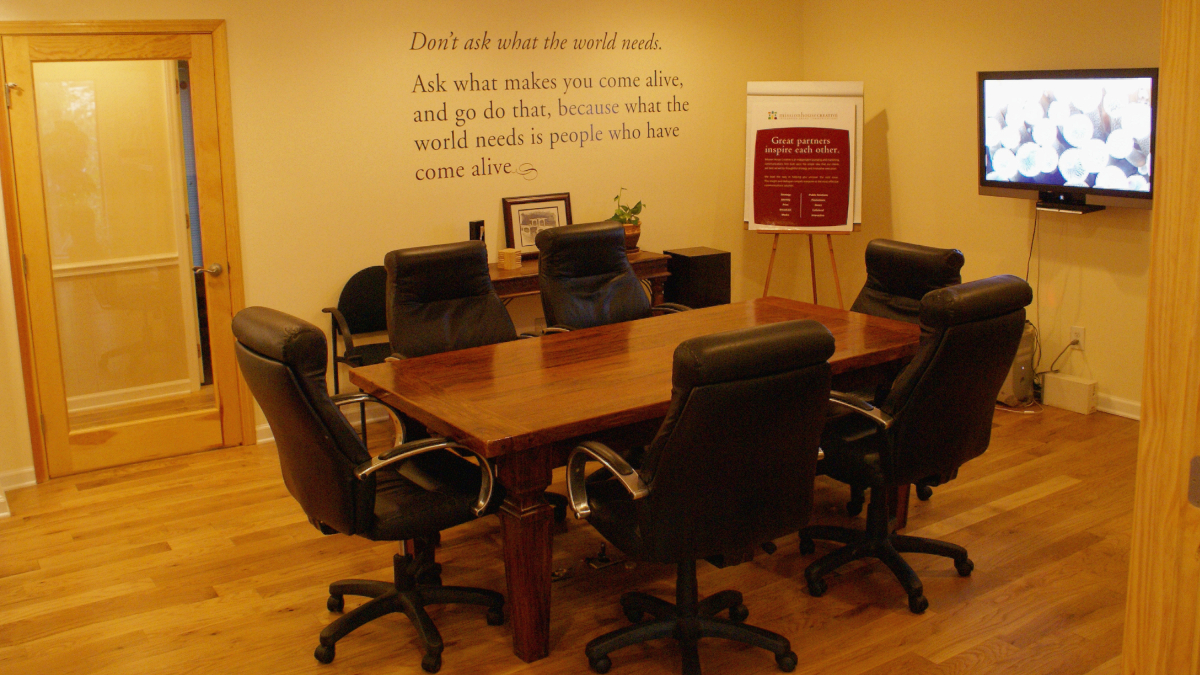 Medium Conference Rooms
The right size for 4-10 meeting goers.
Offered at the following locations:
Commonly used for:
Staff meetings
Group sessions
Training
Board Meetings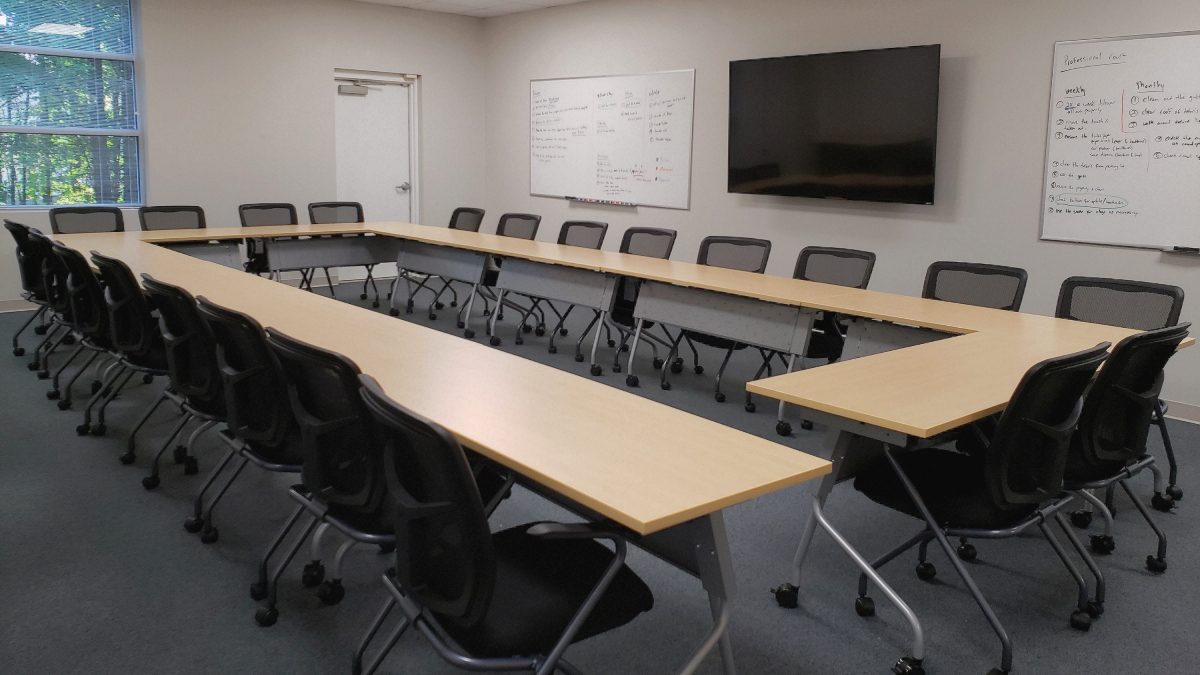 Large Conference Rooms
25-34+ participants.
Offered at the following locations:
Commonly used for:
Networking events
Board Meetings
Training
Efficiently book conference rooms at any location using online member portal
Access to conference rooms at all locations around Wake County
Professionally managed Wi-Fi for members and guests
Onsite shared copier/printer/scanner and shredder
Flexible lease options with only a 60-day commitment
Less than 1 mile from shops, banks and restaurants at all locations
All conference rooms equipped with a whiteboard and large screen TV for sharing presentations
Book shared cubicles using online portal
Free conference room credits for office suite of virtual office rentals
Full kitchen / break room with vending machines on-site
Free on-site parking in a private lot
Waiting area / lobby for your guests
Outdoor Signage Available
Specialized IT Infrastructure
Office Ours encourages collaboration and diversity among businesses that hang their shingle with us. We have a wide range of clients in our locations, including non-profits, tradesmen, IT companies, attorneys, therapists, health and wellness practitioners, and many others. Be part of something great and come see what we can do for your business. Make ours Yours.