How you decorate your office sets the tone for the work environment, not only for yourself and your employees but also for your clients. Your office needs to give off an excellent first impression and show that your business is professional. The way you decorate can show off your company's core values, highlight your team's accomplishments, and set the mood you are trying to portray with your business. Not only does decor set the tone, but it can help you and your team focus and be productive. Nobody wants to work in an empty office or an office that is cluttered and distracting. If you are spending 40 hours a week there, you might as well be comfortable and enjoy your space! 
Wondering how you should decorate your new office? Read on to see our office decorating tips and see how Office Ours Tenants have decorated their space. Finally, find out the answer to the most asked question at Office Ours, "Can I hang this on the wall in my office?
Declutter Your Office
Creativity won't happen when you look around at unopened mail and boxes on the floor. Walking into a clutter-free office will set the tone for the workday and help you and your employees be more productive. This might mean taking a day or two to go through those boxes, sort the mail that has been sitting out, and filing away the paperwork. Office Ours provides office furniture like the desk, task chair and pedestal pictured below in Michelle Wareham's office. A pedestal or filing cabinet will help you file paperwork and stay organized.
Bonus tip: Take ten minutes at the end of each day to clear off your desk, throw away the trash, and tidy up. Office Ours provides weekly janitorial services to vacuum and remove the trash from your office. You will walk into a clean office the following day, ready for a productive day.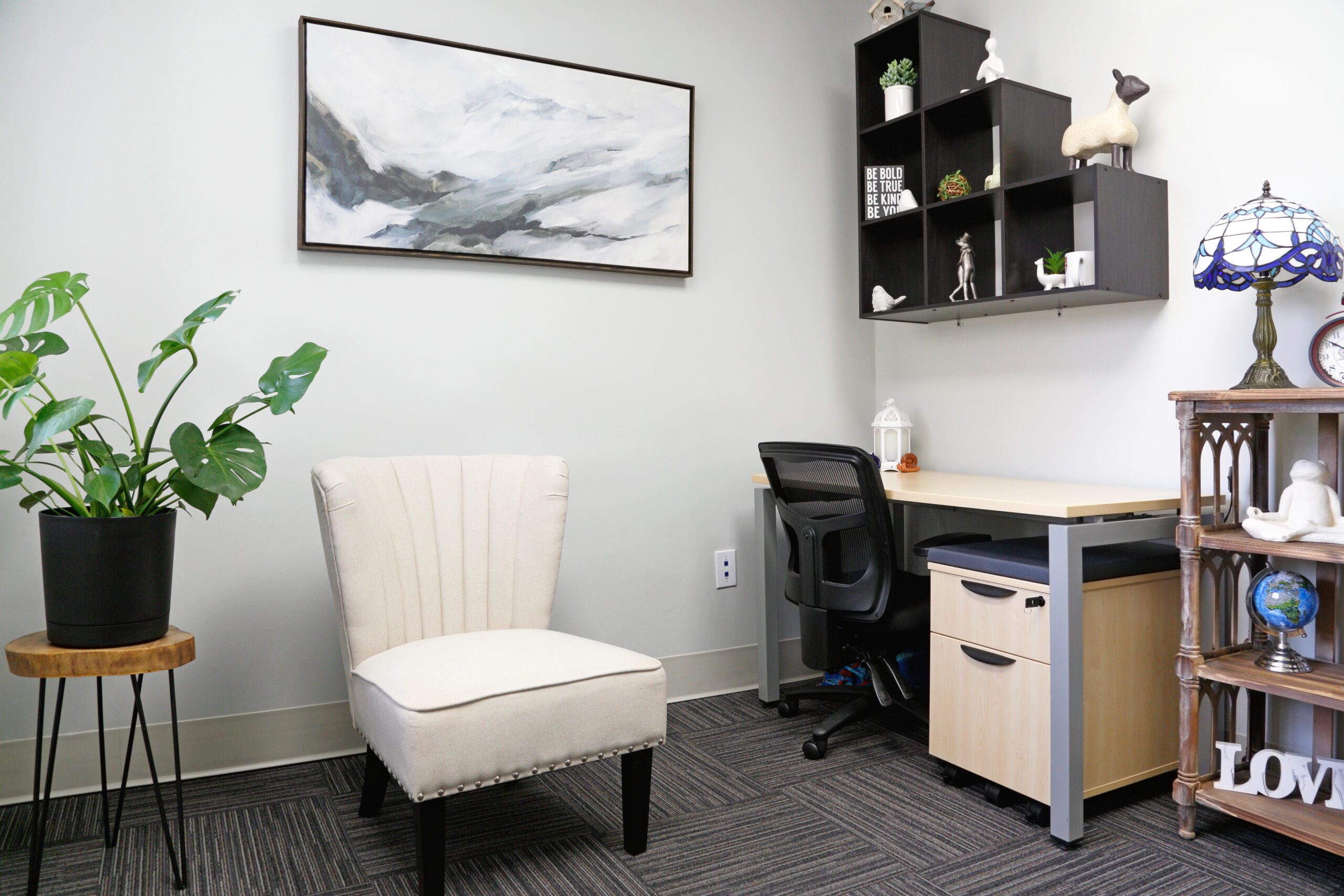 Focus on Comfort
Your office might be used for various reasons beyond a space to sit at a desk and work. Many people have offices for their counseling, healthcare, or financial advising business. Will you have clients coming in and needing a place to sit? Find comfortable seating that will work in your office, like the picture below in Kathryn Bowden's office. Choosing neutral tones for furniture will provide comfort and a sense of ease if you see clients for therapy or counseling. Add an accent chair with a pop of color if you want a more creative or artsy look in your office.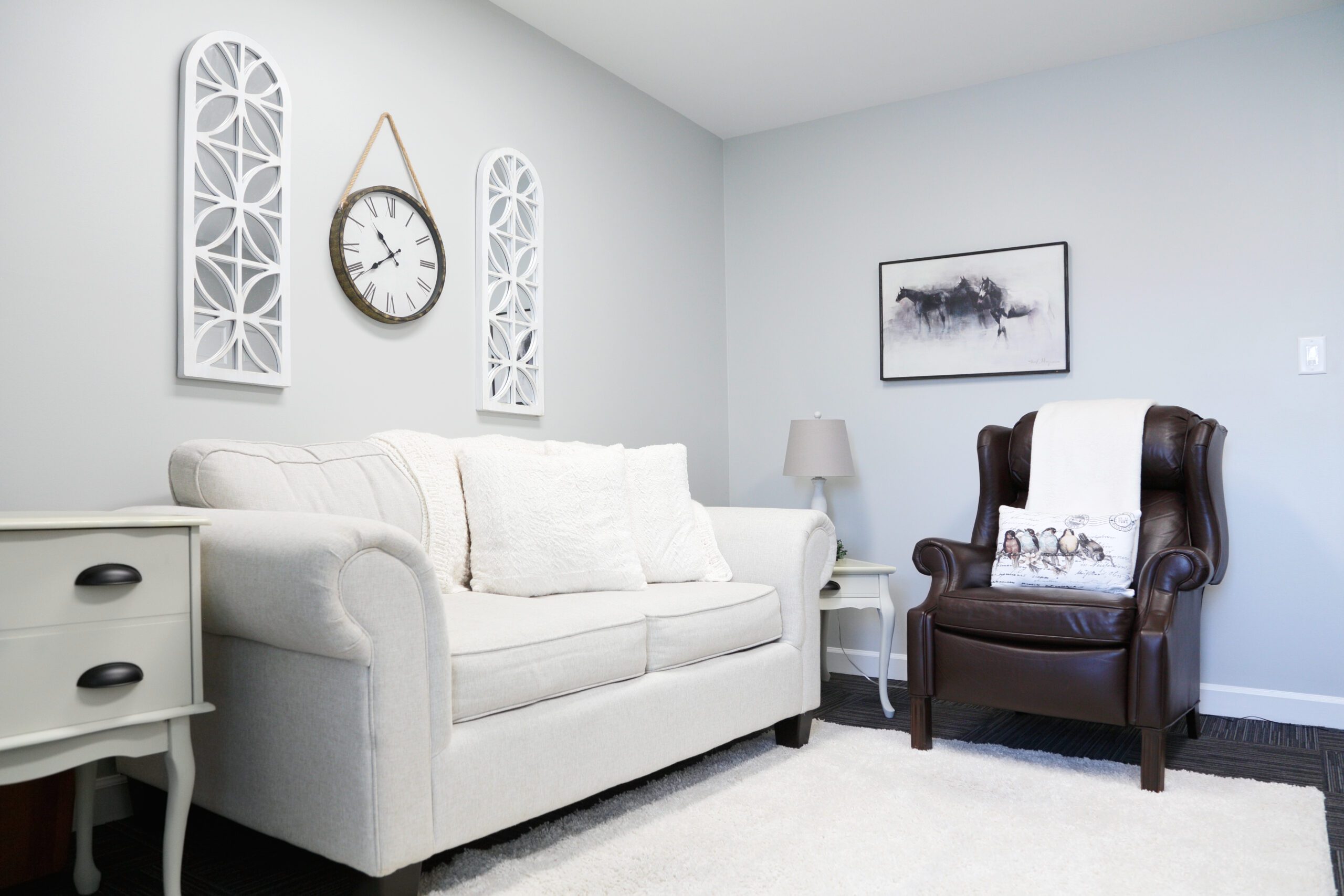 Make Your Office Unique
Depending on your line of business, you may want to add color or an accent wall like the one pictured below by Office Ours tenant Plush Beauty. This flower wall adds color and a unique look to her office that welcomes clients when they come in for services. Choose colors for your office similar to your business logo and theme. Your business will look unique and stand out by adding your business colors and logo.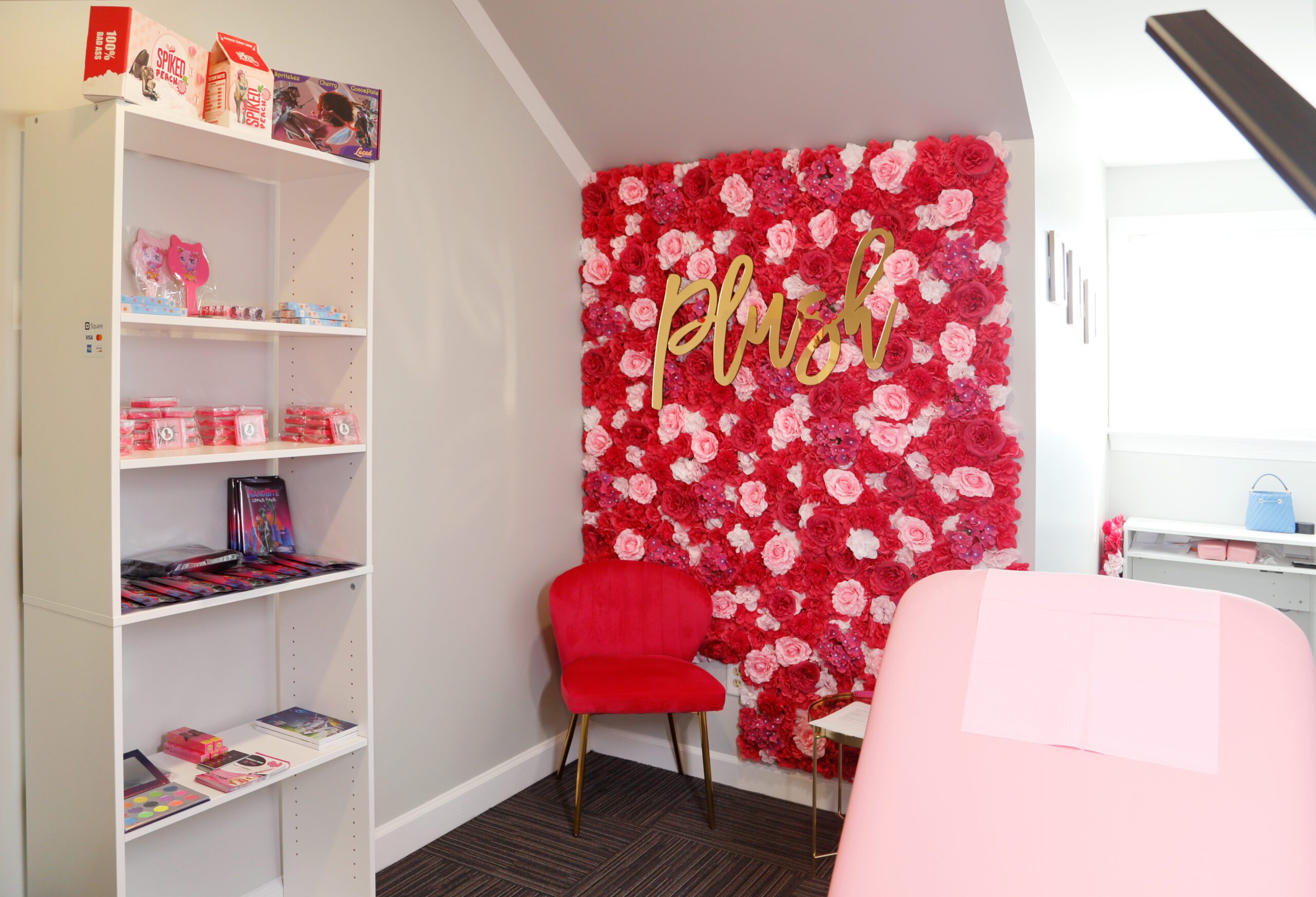 "Can I Hang This on the Walls?"
The number one question we get asked is what can be hung on the walls in an office at Office Ours. You may hang posters, pictures, signs, art, etc., on the walls in your new office using nails and anchors. Tape, command strips, or anything sticky can cause damage to the walls and is not allowed. Consider hanging informational or educational materials related to the services you offer, like the tenant below.