Here at Office Ours, our members are everything to us. One of our main missions includes building a strong sense of community among our members by giving them the resources and tools necessary to market themselves. This week we have a tenant spotlight with Kelvin Thurman, owner of KGT Enterprises, who specializes in a wide variety of insurance products for both businesses and the consumer.
Kelvin has a unique and encouraging entrepreneurial journey that is beneficial for all small business owners to hear.
He began his insurance career at a sales job with a large company years ago after getting his insurance license. His duties included consulting with businesses, trying to reach the owner to sell supplemental insurance to them. Though it was hard work and it didn't really correlate with his goals, he learned and developed the skills that would eventually give him the knowledge to become successful on his own. Even though this was a great start, he knew he could do more for himself and his family. With this internal desire to do more, regardless of what it took, he started his own company in 2015.
KGT Enterprises began to grow after it's conception in 2015, as he marketed himself by attending church events and other local organizations. His name quickly became popular among the local community. "I wanted to own a business where I could control my own income and have it work in parallel with ministry." Kelvin stated.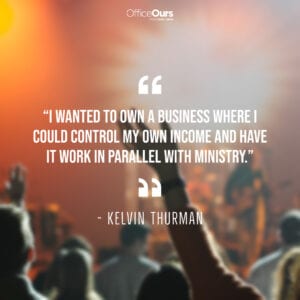 He moved into our Professional Court location at Office Ours in 2018, helping his business gain a larger footprint and allowing him to establish more agents in his company. He now works with all types of insurance; business liability, property and casual, and life, with auto being his favorite. With ministry being an important aspect of his life, he is excited that he can assist his clients on a personal level with ministry and a financial aspect with insurance.
The convenient location, affordability, and proximity to dozens of local communities are some of Kelvins favorite aspects of Office Ours. He frequently uses the conference rooms, which he says allows him to meet with clients in a professional setting and he also finds working around other entrepreneurs brings him creative ideas and allows him to collaborate and network. The guest Wi-Fi and break room are also additional amenities that he uses and finds useful for himself and his clients. Also the new locations opening up will give him the opportunity to expand his prospective business locations and open the door to larger growth in his business.
To learn more about Kelvin and his missions, visit his websites at: 413insuranceservices.com and kgt1enterprises.com.